FUSION 3piece Ring
18 kt. white gold, Blue sapphire
Products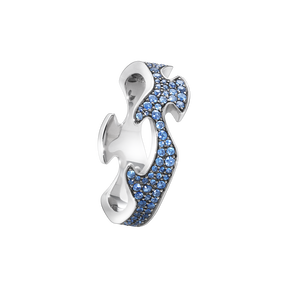 18 kt. white gold, Blue sapphire
Promotions
ABOUT THIS PRODUCT
The striking organic shape of this 18 karat white gold Fusion ring, pavé-set with blue sapphires, is an object of beauty in its own right but the magic starts to happen when it is combined with perfectly interlocking end rings. How they combine and what the different elements symbolise is left to you as you create pieces that tell your very own story of love, life or celebration. Fusion truly is a gift with meaning.
Georg Jensen's iconic Fusion collection combines both exquisite Scandinavian design and a powerful emotional aspect as rings are mixed together in endless ways to convey your own personal story.
The ring is beautifully crafted from 18 karat white gold pavé-set with blue sapphires.
Item number:

Fusion-20000289-20000327-20000289

Materials:

18 kt. white gold

Stones:

Blue sapphire

Design year:

2000

Collection:

Fusion