WRAPPED SEALED AND DELIVERED
We take care of the gift card and wrapping. Just fill in a personalised message on checkout - and we will write it on a Georg Jensen gift card. No need to worry about gift paper and curling ribbon - we will wrap the present for you. Just check of the box in your basket.
*Please note that gift wrapping is not available for promotional items.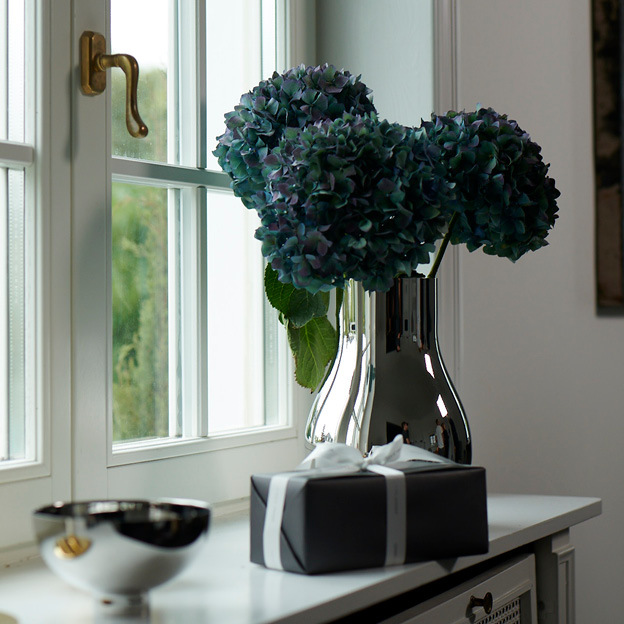 A SPECIAL WAY OF GIFT WRAPPING

The wrapping technique ensure a beautiful visual expression and that the wrapping paper opens like a flower when the ribbon is pulled.
THE GEORG JENSEN WAY
At Georg Jensen, we have a special way of gift wrapping our creations. The method has its origins in a wish from the beloved late Queen Ingrid, the Queen Mother of Denmark. It saddened her that she had to turn the Christmas gift upside down when unwrapping them. A method, using no Scotch tape and having the paper opening from the top, was therefore introduced. The wrapping technique ensured a beautiful visual expression and that the wrapping paper would open like a flower when the ribbon was pulled, presenting the gift the best possible way. And since then, no receiver of a Georg Jensen present – Queen or commoner – have had to turn their gift up side down.

FIND THE PERFECT GIFT
Since 1904 Georg Jensen has been recognised as one of the leading exponents of timeless Scandinavian design and unparalleled craftsmanship. And since 1904 Georg Jensen has been synonymous with gifts that will be treasured for a lifetime.
Celebrate this special season with a gift from Georg Jensen and give something to cherish and last for a lifetime.
Enter to this beautiful world of contemporary Scandinavian home decor
Discover the world of fine contemporary Scandinavian jewellery
Explore men's and women's watches that combine Scandinavian style
Elevate your dining or home bar experience with true Scandinavian style