UNBREAKABLE POWER OF LOVE & INTERDEPENDENCE
Using two interlocking shapes - the smaller one protected by the larger - the Offspring collection tells a clear story about the unbreakable power of love and interdependence. Inspired by the unique bond between mother and daughter, the pieces can just as strongly represent the ties between siblings, partners and friends. Jacqueline Rabun's emotional and symbolic pieces have a timeless beauty that allow familial bonds to also be celebrated as the jewellery is passed down from generation to generation.
The Offspring collection was introduced in 2018, and the 18 karat rose gold and sterling silver designs have quickly become new Georg Jensen favourites around the world. Now, five of the existing pieces are also presented in 18 karat yellow gold, a material that brings a new feel to the hoop earrings and sculptural, oval rings.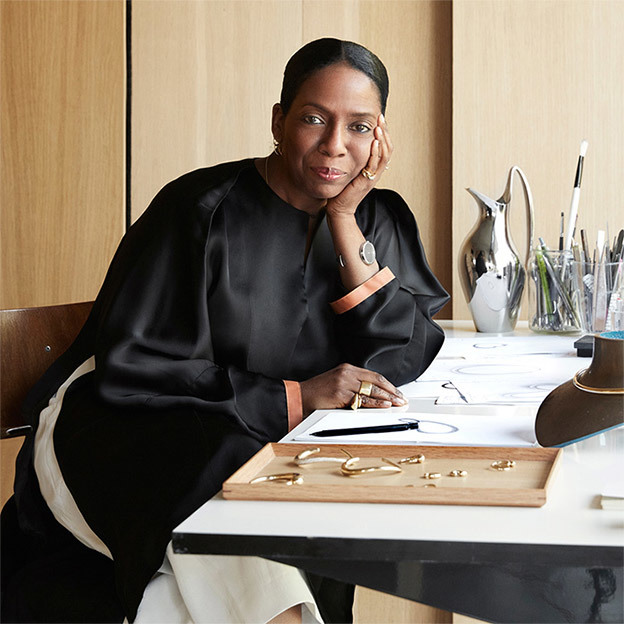 designer
Jacqueline Rabun
American Jacqueline Rabun moved to london in 1989 and thus began her journey into the world of contemporary jewellery design.
"The natural shapes and curves of the body are essential to everything I design," says Rabun, "it is important that each piece compliments the human form and becomes an extension of the body and spirit of the wearer, like a talisman providing strength, confidence and protection".
As one of the most recognisable names in modern jewellery design, Jacqueline Rabun infuses her work with symbolism and emotion as well as a strong sense of form and craft. Jacqueline is an artist as well as a jeweller and uses strong conceptual narratives in her pieces which strive to illustrate the human experience.