BERNADOTTE salt and pepper grinder and egg cups - Save 50%
Mirror polished stainless steel
Products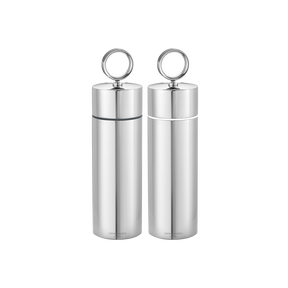 Mirror polished stainless steel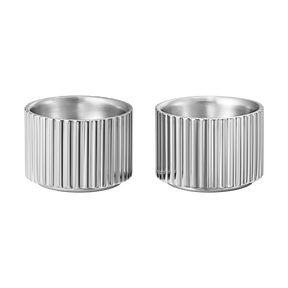 Mirror polished stainless steel
BERNADOTTE, Egg cup set, design inspired by Sigvard Bernadotte.
Promotions
ABOUT THIS PRODUCT
Whether its a casual supper for two or a dinner party with friends, the details on a table setting make all the difference. Elevate the every day with this elegant salt and pepper grinder and egg cup set, inspired by the functionalist work of designer Prince Sigvard Bernadotte, and make every mealtime something special.
The pared-down beauty of Sigvard Bernadotte's extremely influential pieces has inspired a whole new generation of designers, resulting in the Bernadotte collection, where signature details have been transferred to stainless steel, giving a contemporary twist to classic design.
The set are beautifully crafted in stainless steel. It makes the perfect gift for any food and design aficionado, or even yourself.
Item number:

BERNADOTTE-set-10016338-10014924

Materials:

Mirror polished stainless steel

Measurements:

Salt and pepper grinder: H: 188 mm / 7.4 inches. Ø: 50 mm / 1.97 inches. Egg cups: H: 33 mm / 1.3 inches. Ø: 40 mm / 1.57 inches.

Collection:

Bernadotte