THE FUSION COLLECTION
MODERN LOVE
VOLUME III
CARLA OATES AND JEET PAVLOVIC
Carla Oates, founder of The Beauty Chef, has a focus on inner and outer wellbeing, with all-round happiness at the heart of her business. Here, accompanied by gorgeous daughter Jeet, the pair speak of their deep, complex and unconditional love.
As Mother's Day draws near, we are let into this unique mother-daughter relationship and are allowed into their world to understand what truly makes this pairing so beautiful and unique.

We all have a special relationship with our mothers and the perfect day to show her your appreciation is just around the corner. The Fusion collection empowers you to create and express your own love story, something as unique and personal to you as your relationship with your mum. Choose something extra meaningful and special this Mother's Day.
Love is a dynamic phenomenon that changes path, grows stronger or faces new circumstances and challenges over time. First designed by Nina Koppel in the year 2000, Fusion has been part of love's narratives for two decades and, on its twentieth anniversary continues to celebrate the way that love evolves. Existing rings can be expanded or complimentary pendants and bangles added to a collection to symbolise a growing family or a special anniversary whilst the introduction of new designs gives a further ways to express unfolding chapters in your life. Story telling has never looked so good.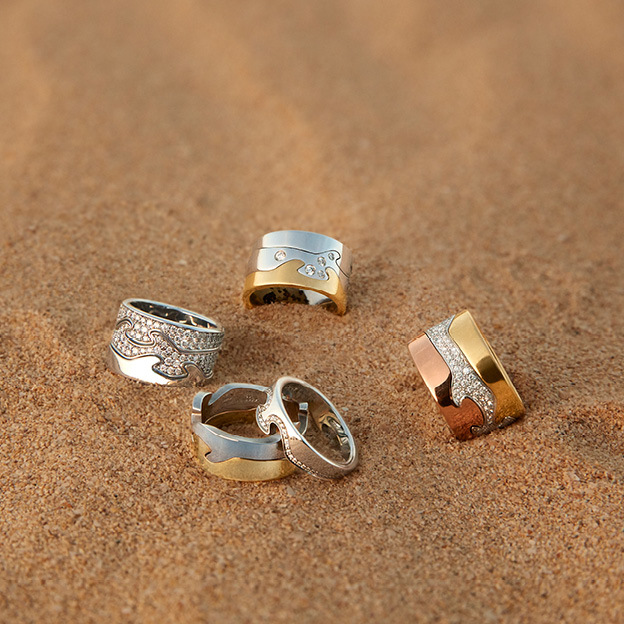 collection
Reflect your personal narrative
Fusion can be customized to tell your own story and be worn as a token of love
Love Stories in Gold
The impact of jewellery is not only about the physical beauty of precious metals and gemstones. There is also an emotional aspect, with rings, bangles and necklaces being bought and gifted as declarations of love, as celebrations of achievements and as commemorations of special events and anniversaries. The beautiful Fusion collection takes this very human element and places it centre stage with pieces that involve the wearer or giver in the actual design process, allowing them to tell their very own stories of love and life using the language of jewellery.
DISCOVER FUSION IN THE MAKING
Each Fusion piece interlocks with the others seamlessly to build a personal design story. The collection represents another chapter in the rich history of Georg Jensen designs by merging the finest materials with high class craftsmanship.
18 kt. yellow gold, 18 kt. white gold, 18 kt. rose gold, white diamonds

18 kt. white gold, diamonds

18 kt. white gold, 18 kt. yellow gold, diamonds