Each gift is a story started
This season we meet the Copenhagen creatives making Georg Jensen designs the start of a new story.
Whether passing down treasured jewellery, gifting themselves a coveted design or inheriting long-lived silverware — each moment marks just the beginning.
Cecilie Ingdal
The editor-in-chief of Elle Denmark regifting cherished jewellery to her daughter.

Editor-in-chief Cecilie Ingdal first received the 1969 Vivianna bangle watch at age 14 for her confirmation. A piece so cherished it has been with her for over 33 years. "It's the first piece of jewellery I ever received," she says. "It has a long history."

The watch, which for Cecilie is as much a jewellery item as a timepiece, is one of her most treasured belongings she will regift to her daughter when she gets older. Giving the piece new life and creating new stories along the way. A gesture Cecilie believes is only possible thanks to the design's timeless appeal and lasting quality. "It's so well-designed you can hardly tell it's been worn," she says.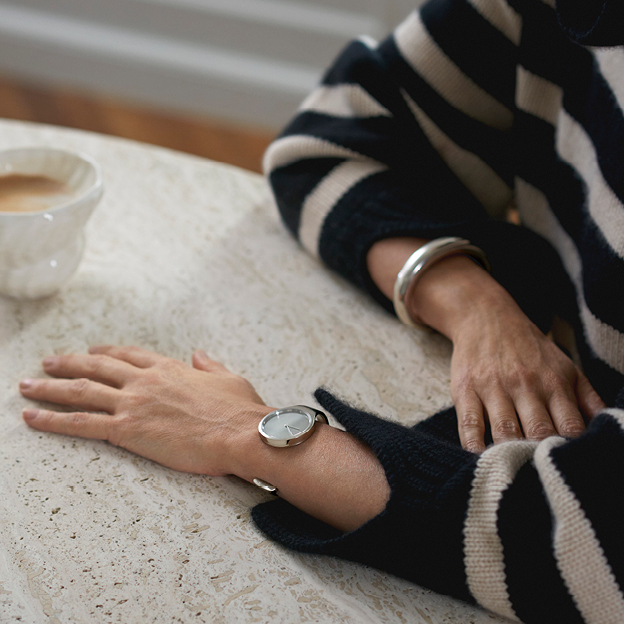 Q&A
What makes the Vivianna bangle important for you?
I love the idea of carrying history around. The Vivianna Bangle is a beautiful piece that has been with me for so many years.

What is important about regifting?
In a world where everything goes so fast, it is so important to take a step back and understand the value of good design. There are so many pieces, just like this watch, that still feel so modern and relevant even though they have been made long ago.
about the design
The Vivianna Bangle Watch
Swedish designer Vivianna Torun Bülow-Hübe envisaged her stunning bangle watch for Georg Jensen as both a wristwatch and a precious jewellery item. Sculpted in stainless steel and boasting a Swiss quartz movement, the Vivianna Bangle Watch dates to 1969 and has since been a proud part of Georg Jensen's jewellery collection.
Shop the look
Discover a selection of striking Georg Jensen jewellery pieces worn by Cecilie Ingdal and matching designs from our collections.
Johanne Aurebekk
The design aficionado gifting herself a beloved piece of Danish history.


A freelance art director and owner of a brand specialising in well-crafted garments and home objects, Johanne Aurebekk's passion for design runs deep. This Christmas, she chose to gift herself a Georg Jensen HK Pitcher in polished stainless steel — a historic piece of mid-century Danish design Johanne has for long considered welcoming into her home. "It's been on my mind for a while," she says, emphasising that the jug's organic forms and sleek look make the piece one she will never grow tired of. "Whenever I buy something new it's important that it's a piece I'll use forever."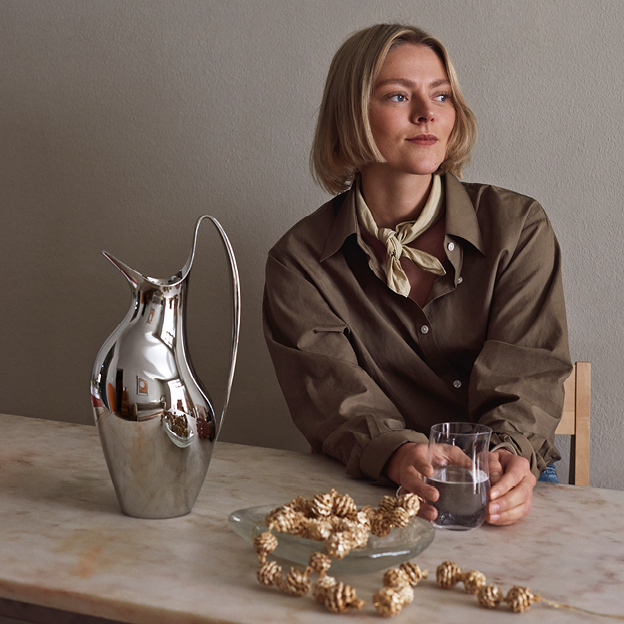 Q&A
What pieces do you bring into your home?
I like to choose objects that give me a sense of calm and belonging. Home is a place where I like to relax at the end of a busy day. The designs I furnish it with should always convey beauty and calm, just like the HK Pitcher.
What do you most appreciate about the design?
Its history. Think about it: the piece was designed 70 years ago, and it is still so relevant. This means it will stay relevant for at least the next 70 years.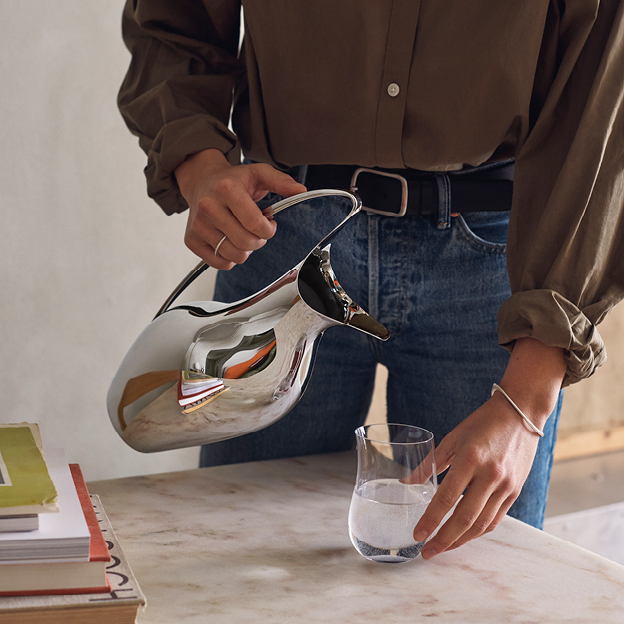 about the design
The HK Pitcher
This sumptuous pitcher was first crafted in sterling silver by famed Danish sculptor Henning Koppel in 1955. Defined by its organic shape and sculptural look, the stainless steel edition of the Koppel Pitcher was introduced in 2009 and has become one of Georg Jensen's most celebrated designs.
Mathias Mentze and Alexander Vedel Ottenstein
The architect couple inheriting silverware with a memorable past.

"We love collecting pieces with a history that Alex and I inherited through the years." Mathias Mentze and his partner Alexander Ottenstein run a joint architecture studio and enjoy making good use of Georg Jensen's Pyramid cutlery, designed by Harald Nielsen in 1926, at Christmas and beyond. A long-lived silverware set the couple inherited from Alexander's grandfather's sister, who built up her collection piece by piece after fleeing to Denmark during the war. "Every time we use the Pyramid set, the silverware becomes more meaningful to us," says Alexander. "It's all about adding new layers to the story."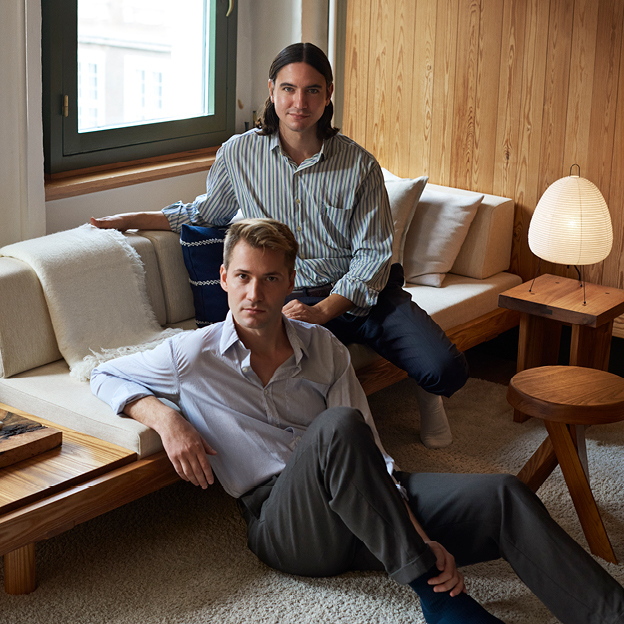 Q&A
What makes Pyramid a special set of silver cutlery for you?
Mathias: I appreciate how Pyramid is timeless yet specific of the period it was designed in. The small ornamentation is representative of the Art Deco movement, I find this so interesting, almost romantic.
Alexander: The fact that we inherited Pyramid makes the set so special to us. For my family it was about starting a new life. For us, it is about continuing the story.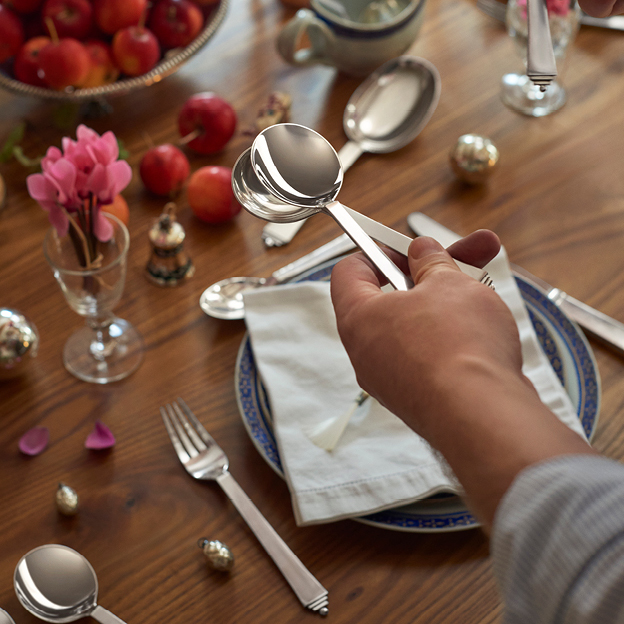 About the design
The Pyramid cutlery
Boasting a design style representative of the Art Deco movement, the Pyramid cutlery and its distinctive stepped motif were designed by silversmith Harald Nielsen in 1927. As one of Georg Jensen's most trusted colleagues, he worked on multiple pieces for the house over decades.