SLEEK MODERN DESIGN AND EXCELLENT FUNCTIONALITY BRING SOMETHING SPECIAL TO THE TABLE.
Making the perfect cup of tea or coffee is one of life's little pleasures so add a bit of Scandinavian flair to the ritual by using Georg Jensen's Helix collection of pots, milk jug, sugar bowl and tray.
Mirror polished stainless steel

Mirror polished stainless steel

Mirror polished stainless steel

Mirror polished stainless steel

Mirror polished stainless steel, Leather
THE HERITAGE OF SCANDINAVIAN DESIGN
Having grown up surrounded by the elegant functionality of Georg Jensen pieces, Swedish duo Bernadotte and Kylberg approached the brief to create a new tea and coffee set with a deep appreciation and respect towards the heritage of Scandinavian design. Understated details and a strong sense of contemporary minimalism were considered to be of paramount importance.
Looking to the archives, the organic shapes of iconic jewellery pieces such as Möbius and Infinity inspired the bold sculptural shapes of the tea and coffee pots and, in particular, the way the lids flow seamlessly into the grip handles on top.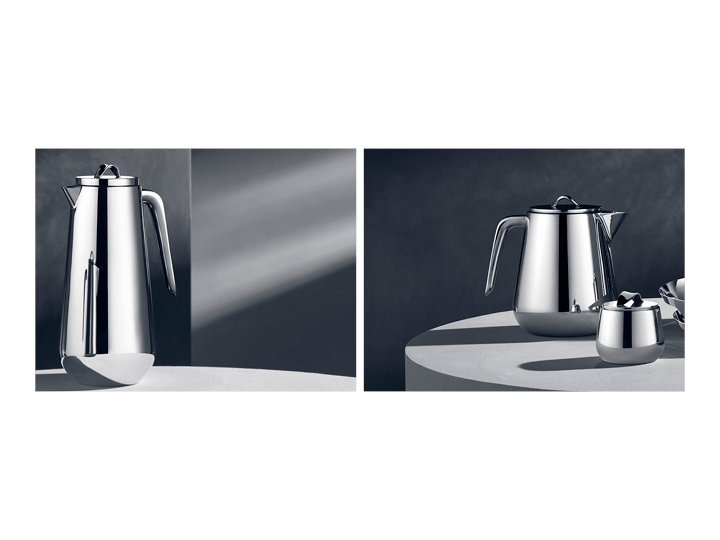 Of course, the final result - a perfect brew or cup of coffee - requires the service to perform as well as look good and Bernadotte and Kylberg's keen eye for practicality is obvious in the Helix collection.
The thermo jug keeps coffee warm for up to six hours whilst the drip-free tea pot has a double steel wall which ensures a warm cuppa long after the water has been added. And when it comes to actually serving the drinks, the elegant contemporary tray has a special non-slip section to avoid clumsy disasters at the tea table.

Founded by Carl Philip Bernadotte and Oscar Kylberg in 2012, the Stockholm-based design agency Bernadotte & Kylberg is known for its innovative, contemporary approach to both industrial and graphic design projects.
They have worked for a long list of international clients including Stelton, Hästens, Zweisel Kristallglas, and Åhléns. Most recently, they have collaborated together with Georg Jensen and will launch for Autumn/Winter 2019, the Helix collection: a dynamic coffee and tea service set that show the duo's decidedly contemporary aesthetic in the context of Georg Jensen's enduring legacy as a trailblazer of Scandinavian design.
With a focus on longevity, sustainability, and purity, Bernadotte & Kylberg create designs that will stand the test of time both in terms of form and function. Having both studied graphic design at Forsberg's School in Stockholm, the duo brings a fresh and forward-thinking perspective to diverse design categories. Bernadotte & Kylberg have worked across fashion, eyewear, homeware, and packaging design, with materials including ceramic, stoneware, enamel, textiles and glass, among others. Their forthcoming collaboration with Georg Jensen sees them work in stainless steel to create a dynamic collection that elegantly updates the cross-cultural tradition of drinking tea and coffee, for the 21st century.