Discover your edges
Designed by Nina Koppel and launched in 2000, Fusion's wavy edges allow for myriad personal combinations. Stack your favourite end and centre rings crafted in 18-karat yellow, white and rose gold, and handset with brilliant cut diamonds. Customisable by design, allow your Fusion ring to reflect the edges that shape you.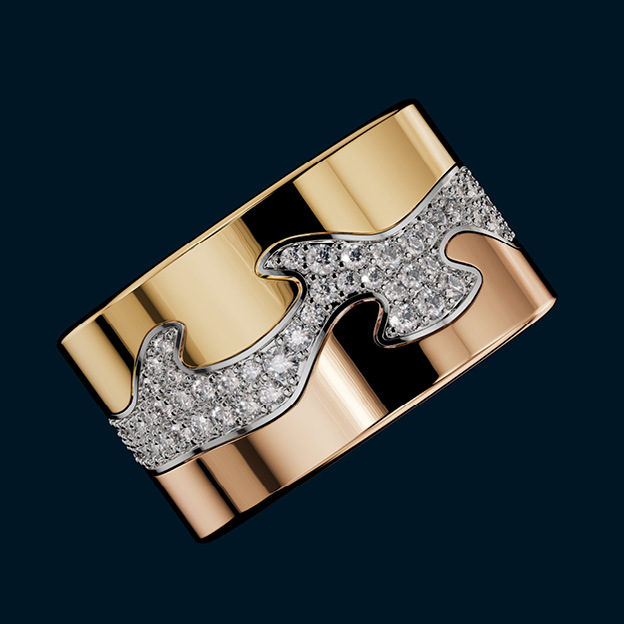 Build your own ring
There are infinite ways to stack Fusion rings. Whether you are discovering Fusion for the first time or simply enriching your collection — this handy ring builder will help you find the combination of golds and diamonds that is right for you.
The Fusion icons
Find inspiration from iconic Fusion combinations. Find the two- and three-piece rings that have over decades become the collection's most recognisable pieces.
18 kt. white gold, 18 kt. rose gold

18 kt. white gold, 18 kt. rose gold

18 kt. white gold, Diamonds

18 kt. white gold, 18 kt. yellow gold
Introducing the Fusion ambassadors
Five ambassadors. Five Fusion combinations. Discover how each of the ambassadors brings their unique edges into their two and three-piece creations in 18-karat gold and diamonds. And get inspired to create your own.

Complete the look
There is more to explore from the Fusion collection. Ranging from 18-karat golden bangles to ear hoops with handset diamonds, each piece carries Fusion's iconic pattern designed by Nina Koppel. Discover the new additions to the collection and find the gold and diamond piece that best matches your look.

18 kt. white gold, 18 kt. yellow gold, Diamonds

18 kt. white gold, 18 kt. rose gold, 18 kt. yellow gold, Diamonds

18 kt. yellow gold, 18 kt. white gold, 18 kt. rose gold, White diamonds

18 kt. white gold, 18 kt. yellow gold, Diamonds