GEORG JENSEN X SNØHETTA
Internationally renowned Norwegian design agency Snøhetta, working with Georg Jensen for the very first time, studied the flow of water and the way that plants grow along with the idea of reflections to inspire Terra.
In true Scandinavian style, the results combine form and function, with inherent practicality and clever invention being matched with unusual shapes and beautiful materials. The 'inverted' shape of the pots gives the roots of a plant extra space whilst also giving an unexpected sense of proportion. Similarly, the dramatic stainless steel reversible planters allow a plant to be repotted by simply flipping it over. The two water utensils - a 'traditional' watering can and a sculptural ball - are ergonomic, tactile and totally practical.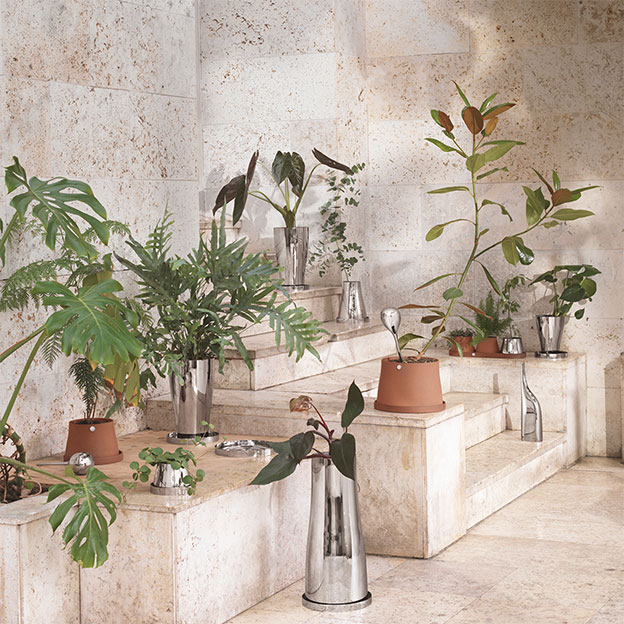 Design
The Terra Collection
"The idea behind the collection was to create a world of plants, derived from the logic of nature," says Marius Myking, Director of Product Design at Snøhetta
Mirror polished stainless steel

Terracotta, Mirror polished stainless steel

Mirror polished stainless steel

Mirror polished stainless steel
Indoor and Outdoor planting
Growing plants in your home or on your terrace or balcony is not only aesthetically pleasing but also can be very personally rewarding and lead to a sense of peace and calm. Adding a touch of Scandinavian design to planting, the new Terra collection uses strong, sculptural shapes and unexpected materials that elevate the simplicity of plant pots and watering utensils to something truly beautiful. Working with terracotta for the very first time Georg Jensen combines both practical innovation and striking good looks in pieces that create an extra layer of interest to urban gardens both indoors and out.
How Does Your Garden Grow?
Terra is the perfect way to give your garden a bit of Scandinavian design flair. The inverted organic forms of the plant pots gives an unexpected twist to a simple functional piece and the mix of the rough surface of terracotta and the shine of the stainless steel adds a dynamic contrast. The fact that the green leaves of the plants are reflected in the metal also effectively doubles their impact. Allow your individuality to match your gardening skills by combining the different sizes, shapes and materials on your terrace, balcony or even kitchen windowsill and let a little bit of nature into your home and heart.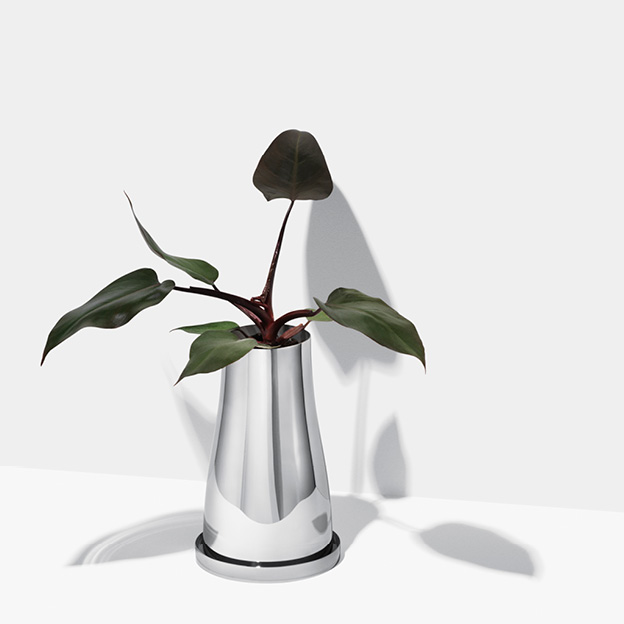 "Terra continues a tradition of challenging ourselves with the combination of metals and other materials," says Georg Jensen Chief Creative Officer, Nicholas Manville
About Snøhetta
Working across architecture, landscape architecture, interiors, product and graphic design, Snøhetta has become synonymous with some of the most striking and innovative buildings, objects, and projects in contemporary culture. Originally founded in Oslo, Norway, in 1989, today Snøhetta employs 240 people from thirty-two countries with offices across Europe, Asia, and Australia. As the practice behind the Norwegian National Opera, the SFMOMA extension and the National September 11 Memorial Museum & Pavilion at the World Trade Center site in New York, and with countless other architectural projects underway across the globe, Snøhetta is defining the visual landscape for generations to come with their insightful and contextual approach.