Elevating your dining experience
A beautifully laid table is the perfect introduction to every dining experience and your choice of tableware not only sets the scene for the delicious food to come but it also reflects your personality. Now new additions to three collections gives you the opportunity to really elevate how you serve the perfect experience. The timeless elegance of Bernadotte whispers understated elegance whilst the playful and iconic curves of Cobra invite dinnertime conversation. And, for the ultimate in contemporary dining, Sky's sculptural and organic forms create a sophisticated backdrop for any meal.

Refined elements
The smooth surface of pure white porcelain plates - organically shaped in Sky, minimalist in Bernadotte or sensuous in Cobra - is the perfect way to display beautiful food servings whilst the contemporary versions of crystal glasses and tumblers in all three collections add a tactile element that enhances either wine or water.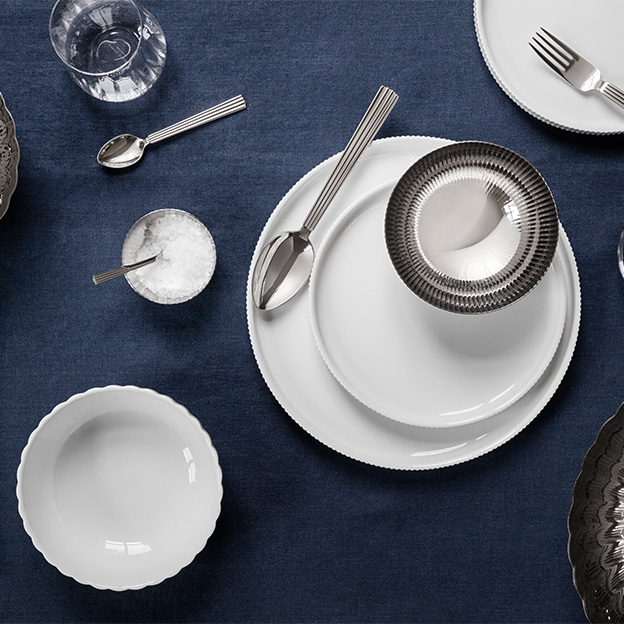 Classic and timeless
The Bernadotte collection
Elegant and sophisticated, Bernadotte is a contemporary take on functionalist Art Deco themes. Now the signature grooves have been adapted from the original stainless steel pieces and applied to the rims of white porcelain plates, bowls and servers and the surface of crystal glass goblets and tumblers. The result is tableware of true understated luxury.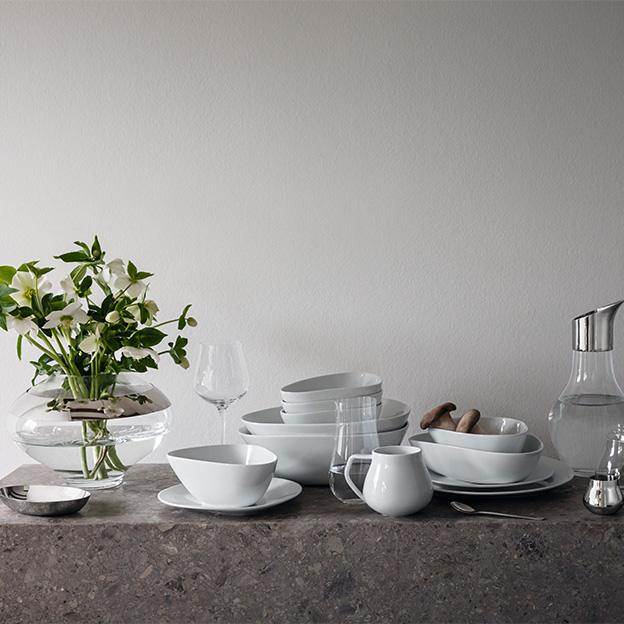 Modern and refined
The Sky collection
The refined forms of Sky have graced the world's most beautiful bars and wine cellars for years but now the same organic shapes have been brought to the table top. Still retaining their abstract sense of minimalism, the plates, bowls and glasses have natural forms that simply invite touch and elevate the dining experience.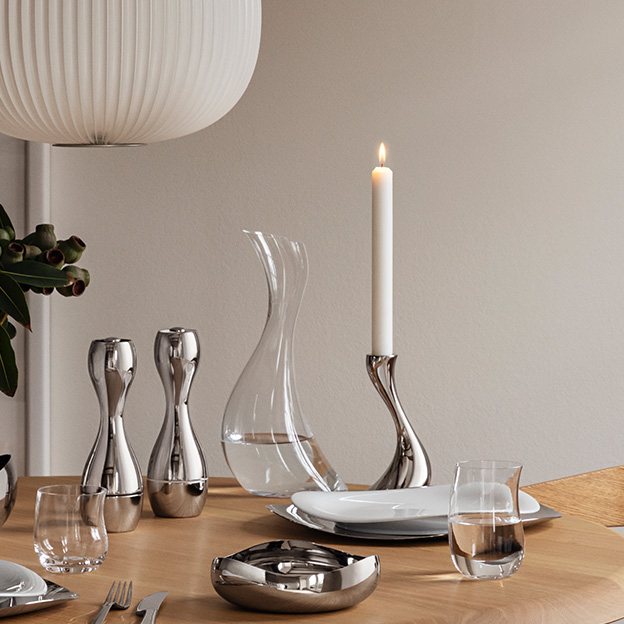 Covetable and sculptural
Cobra
Cobra's iconic curves have made it one of Georg Jensen's most recognizable collections and now the sensuous shapes can bring the same sense of quirky elegance to the dining table. Reworked into everything from plates, servers and glassware to condiment sets and even egg cups, the beauty of Cobra still has the power to charm.
Unique table setting
With dozens of beautiful and stylish new tableware options in Sky, Cobra and Bernadotte, there is plenty to explore and discover. Build up a full service from any one of the collections or really show your own personality by combining pieces from each to create a totally unique table setting. Dining will never look the same again.