Lunar glow
Star of the night, centre of everyone's attention, who has not at least once dreamt of a moment like this? Elegant yet bold in style, amusing the crowd with sharp observations and delightful conversation, all while moving sophisticatedly into the night with the starlit sky as a timeless backdrop. Let the exclusive pieces of jewelry from the extended Moonlight Grapes collection resonate your inner glow and illuminate the darkness while you own the night.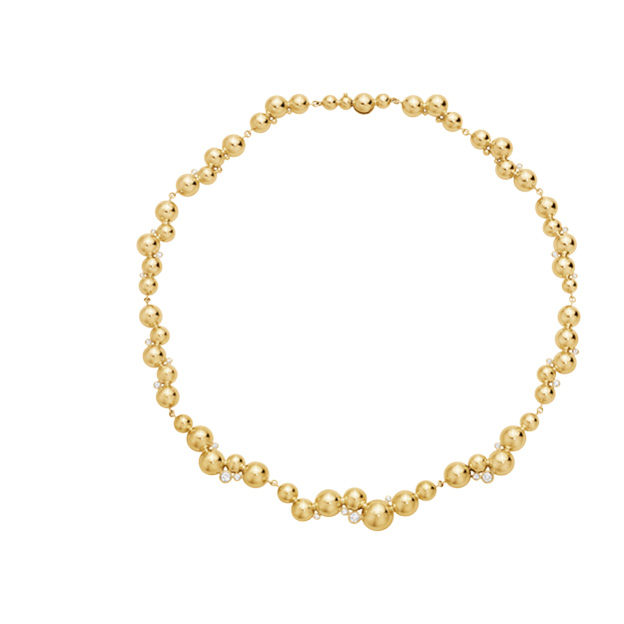 Sophisticated elegance
Asymmetric clusters of 18 karat golden beads elegantly accentuate the collarbone of the wearer of this bold necklace, while organically mirroring your every move. The brilliant cut diamonds highlight the sense of movement in this sophisticated jewelry piece, and the elegance and lightness in the flow of the beads makes the necklace a sophisticated addition to any outfit as you embrace the moments.

Glittering through the night
Make the moment yours as you glisten out into the night in the reimagined Moonlight Grapes jewelry. Find your favorite pieces and elevate the night with the perfect set of jewelry. Let the pieces in gold stand alone as a sophisticated statement or combine the elegant ring, earrings, and bracelets with the bold necklace to complete the perfect outfit and feel the world move with you.
18 kt. yellow gold, Diamonds

18 kt. yellow gold, Diamonds
Make every moment special
Watching as the sun sets by the sea, with waves slowly washing in, is the perfect way to end the day. Let the new extension of the iconic Moonlight Grapes collection inspire you to seize the simple moments in life and turn them into special occasions. Explore the new pieces and choose your favorites.