OWN THE MOMENT
The Moonlight Grapes collection
Empowering, elevating, emboldening. The Moonlight Grapes collection is designed for the woman who claims her moments. Inspired by a Georg Jensen 1920s silver design, Moonlight Grapes introduces a strikingly contemporary take on a heritage house icon.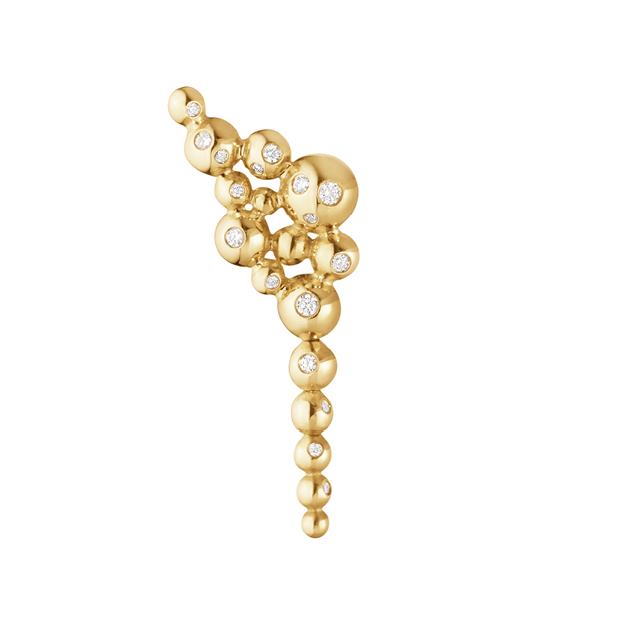 tHE lATEST cREATIONS
New designs, same essence
The iconic collection is expanding with a range of new rings, necklaces, earrings and more. Crafted in sterling silver and diamond-set 18kt gold, the pieces come in asymmetrical shapes with a strikingly dynamic feel and provide a natural addition to the coveted Georg Jensen line.
Recycled Gold, Diamonds, 0.09 ct.
THE GRAPE MOTIF
From Art Nouveau to artistic novelty
At the time when our founder designed the famous Grapes Bowl in the 1920s, the natural world inspired many like him. He adorned this masterpiece with detailed grape-shaped ornaments that went on to inspire the Moonlight Grapes collection. One that uniquely marries Art Nouveau aesthetics with a contemporary expression.
STACK UP, STAND OUT
Jewelry to make your own
Moonlight Grapes is crafted to be stacked and styled like only you can. It inherits our founder's approach to design: daring, innovative and creative. From bold to dainty, the collection offers something for every woman and every stack.
CRAFTED TO PERFECTION
Revealing every detail with every touch
Moonlight Grapes are no ordinary beads. The collection is meticulously handcrafted through time-tested techniques that give the pieces a unique sense of depth and enhance their brilliance.