Celebrating the Life of Georg Jensen
1866 – 1935
At the heart of Georg Jensen is the man himself. The philosophy of our namesake silversmith, is to create innovative designs that are both beautiful and functional. Trained as a sculptor, Jensen was fired by the spirit of innovation and artistic invention and set out to forge a bold new path in silver design. It is with this passion and skill as a silver smithy that Georg Jensen has become a design house built on the foundation of exceptional silver craftsmanship.
Georg Jensen grew up close to forests and lakes just north of Copenhagen. Nature was his core source of inspiration. Symbols of the natural world weave a common thread throughout his designs: fruits, blossoms, leaves and organic shapes.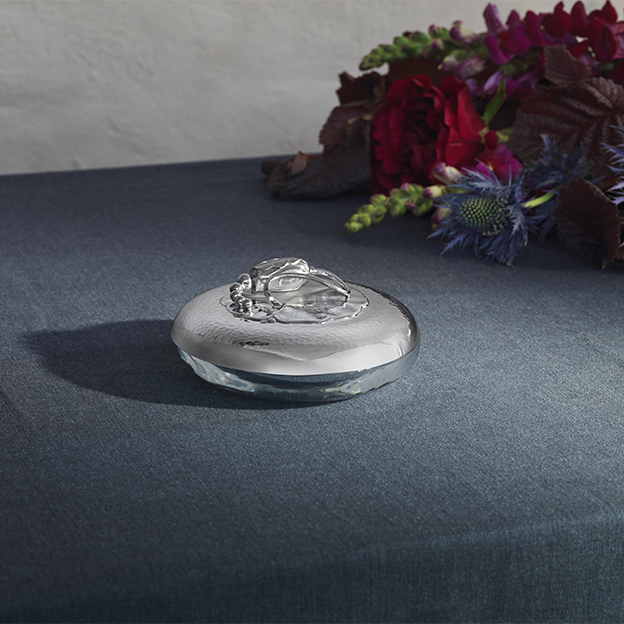 Blossom Bonbonniere 2021 limited edition
This year, we are celebrating the life of Georg Jensen with a limited edition of the beautiful Blossom bonbonniere. Available in only 25 units globally, the 2021 limited edition commemorates Georg Jensen, and one of his most beloved designs, Blossom. Engraved inside the lid of each piece is the numbered edition, and a timeless reminder to celebrate the talent and values that Georg Jensen endowed: an innovative spirit, impeccable craftsmanship and a Scandinavian design sensibility.
1905 – The Blossom Collection
Inspired by the perennial joy of a spring day, The Blossom collection is the essence of ultimate beauty and luxury. Featuring the magnolia bud, a traditional element in Japanese art, the collection is the most thoroughly Art Nouveau of all Georg Jensen's works. Its delicate hammer marks are distinctive and distinguished elements of Georg Jensen's style of design.
In 1905, Georg Jensen designs his legendary blossom teapot no. 2A in sterling silver with ivery handle, later exchanged for mammoth tusk. The Blossom collection gives us an eye into the master's ability to look at a landscape or bouquet and bring them to life in silver. The pieces are whimsical, fascinating, and unexpectedly beautiful.
1918 – The Grape Collection
Jensen continues to epitomise Art Nouveau with his Grape collection. True to life, its stem is twisted and curled, reminiscent of grapes on the vine, hanging above an outdoor patio. The Grape collection announced that nature, at its most pure, could be decoration. Georg Jensen used his iconic technique of sophisticated hammer marks to soften the reflection of light in the silver and create a greyish shimmer he associated with moonlight. The result is a haunting glow that evokes the soft glow of a delicately lit evening.
The decorative ornaments of flora and fauna in the Grape collection have been reworked and reinterpreted into a range of sophisticated jewelry pieces as part of the Moonlight Grapes collection. This collection although undoubtedly classic and discrete, evokes the glamour of the Art Nouveau era.