Introducing
Frequency designed by Kelly Wearstler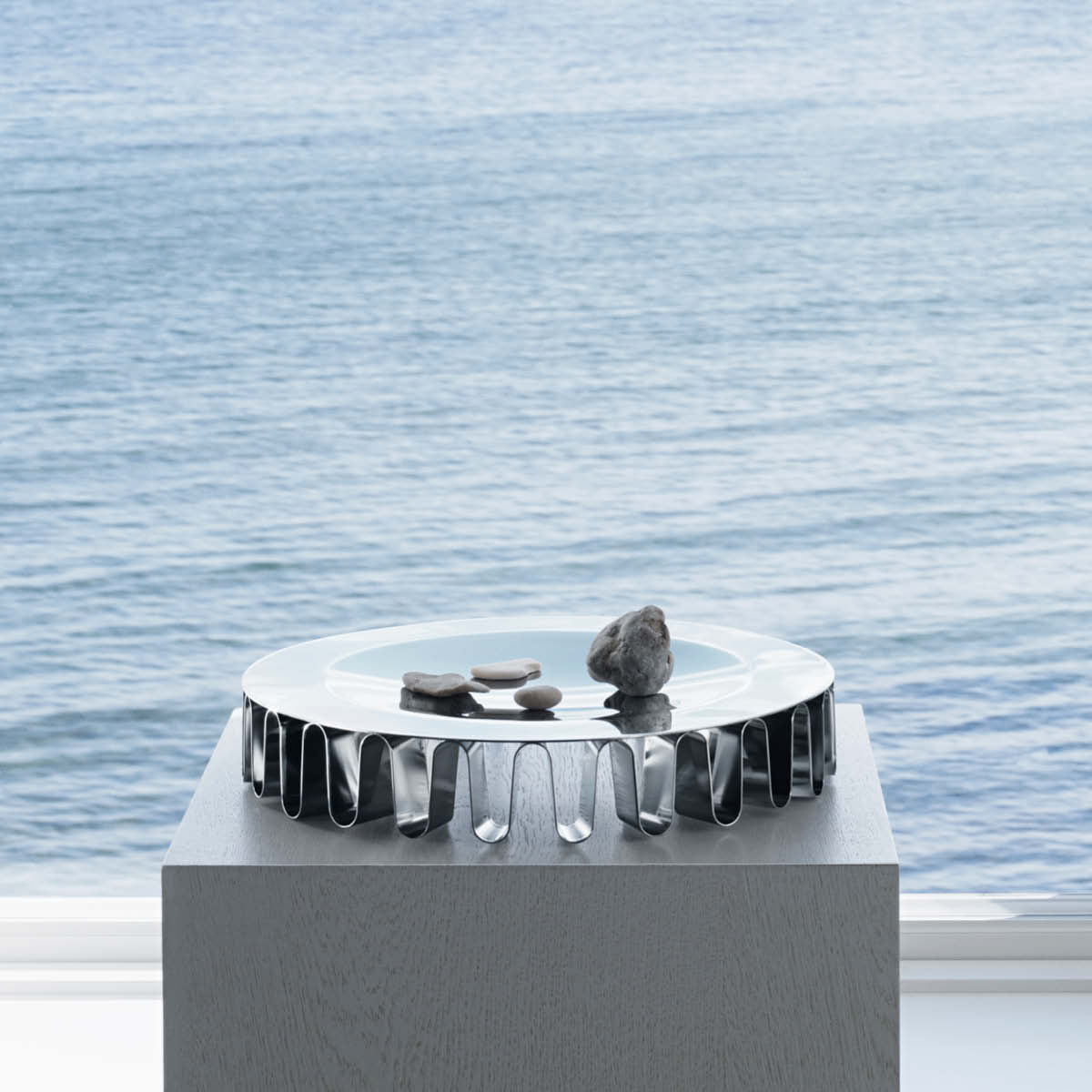 ORGANIC, MINIMAL AND ABOVE ALL BEAUTIFUL
A dramatic encounter between water and light serves as the inspiration behind the expressive and powerful Frequency collection from Kelly Wearstler. The appearance of the bowls and hurricanes encapsulates the splendour of the coast line on the American West Coast, where the designer resides.

Large wavy curves of steel are either matched with shiny, floating surfaces that reflect the light with poetic elegance - or paired with delicate handmade glass that beautifully radiates warmth and exclusivity. The end result is a collection filled with attention-grabbing statement pieces.
Known for exceptional interiors and distinctive lifestyle products, Kelly Wearstler is one of America's most sought-after contemporary designers. Among many other awards and accolades, she has repeatedly been part of Architectural Digest's prestigious AD100 list and ELLE Décor's A-List of the world's best interior designers. Based in Los Angeles, California, Wearstler's style has become synonymous with West Coast-cool: her multi-faceted interiors reveal a rich sense of materiality, color, and form, as well as a strong narrative approach – every space tells a unique and compelling story.
Some of Wearstler's most notable projects include the BG Restaurant at Bergdorf Goodman, the San Francisco Proper Hotel, the Four Seasons Anguilla, and an array of private residences around the world. Wearstler joins the Georg Jensen family with the launch of Frequency, a six piece home accessories collection that will debut in Spring 2019. The series reveals a bold and truly original iteration of the Scandinavian design tradition, as Wearstler cleverly reinterpreted the organic forms and crisp, modern lines that have been at the heart of Georg Jensen's design language for centuries.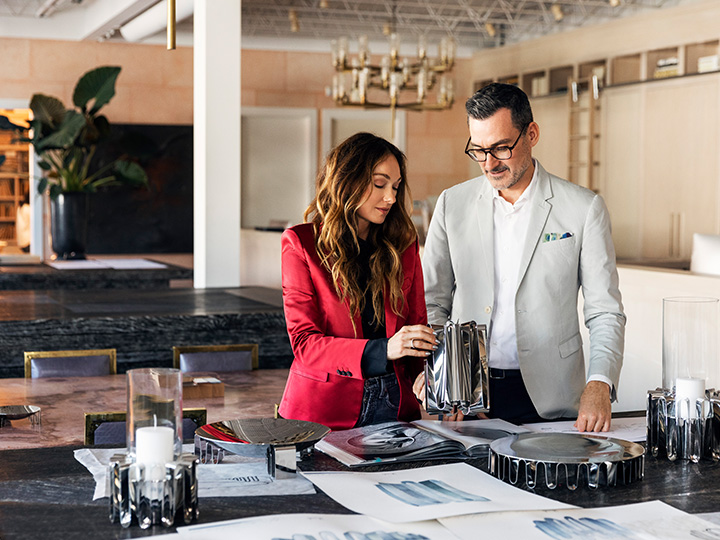 *TERMS AND CONDITIONS
The sweepstakes begins on April 8, 2019 and ends on June 30, 2019. To enter the sweepstakes, you must be aged 18 or over and be a resident of the USA. Employees of Georg Jensen Ltd., its agents, contractors or retailers and anyone else connected with the promotion are not eligible to participate. By entering this sweepstakes, your full name and city of residence may be published at www.georgjensen.com . There will be one winner only. The prize cannot be exchanged for monetary value. The prize must be redeemed in the year 2019. Georg Jensen Ltd. reserves the right to manage the booking of the airline, hotel, transportation and tour of Kelly Wearstler's studio. No purchase is necessary to enter the sweepstakes. Limit of one entry per participant. Entrants are limited to new subscribers that sign up and agree to receive Georg Jensen marketing emails during sweepstakes period. No purchase necessary. Georg Jensen Ltd. takes no responsibility for entries which are lost, delayed, misdirected, incomplete or cannot be delivered or entered for any technical or other reason. Georg Jensen Ltd. will notify the winner by email on July 2, 2019. If the winner does not respond within 14 days of being notified, the winner's prize will be forfeited and Georg Jensen will be entitled to select a new winner. The new winner will then have 14 days to respond once notified or they will also forfeit their price. If a winner rejects the prize, the winner's prize will be forfeited, and Georg Jensen Ltd. will be entitled to select another winner. The winner of this sweepstakes is entitled to bring one guest on the trip for two to Los Angeles with them and must obtain the consent of this person before providing their details (such as name, date of birth, driver license and contact details) to Georg Jensen Ltd. Georg Jensen Ltd. accepts no responsibility for any damage, loss, liabilities, injury or disappointment incurred or suffered by you as a result of you entering the sweepstakes, accepting the prize or not being selected as the winner. The decision of Georg Jensen Ltd. in all matters under its control is final and binding. Georg Jensen Ltd. reserves the right at any time to modify or discontinue, temporarily or permanently, the prize draw with or without prior notice due to reasons outside its control. Georg Jensen Ltd. shall not be held liable for any failure to comply with its obligations where the failure is caused by something outside its reasonable control – such circumstances shall include, but not be limited to, weather conditions, fire, flood, hurricane, strike, industrial dispute, war, hostilities, political unrest, riots, civil commotion, inevitable accidents, supervening legislation or any other circumstances amounting to force majeure. Georg Jensen Ltd. reserves the right to award an alternative prize of equal or greater value, should the advertised prize or any part of it become unavailable for any reason. The competition promoter is Georg Jensen Ltd. The competition will be governed by US Law. By participating in the competition, you are deemed to have read and understood these terms and conditions and agree to be bound by them. If you breach any of the terms and conditions, you will be automatically disqualified from the competition.
Use of your personal data
By entering into the sweepstakes, participants give consent to 1) Georg Jensen Ltd.'s collection and processing of their full name, e-mail address and/or phone number and city of residence and 2) to receive an invitation to become a member of My Georg Jensen. The collected personal data will be used for the competition administration purposes and for communication on advantages related to becoming a My Georg Jensen member and will be stored for a period of maximum 30 days after completion of the sweepstakes. Personal data of the winner and the guest will be processed for the booking administration purposes and will be deleted 6 months after the completed trip date. Once you have entered the sweepstakes, you will be invited to participate in the My Georg Jensen customer club. If you subsequently decide to become a member of My Georg Jensen, the processing of your personal data in relation to this will be subject to our Privacy Policy available at https://www.georgjensen.com/en-us/privacy-policy and Terms of Membership, found here: https://www.georgjensen.com/en-us/terms-and-conditions. By entering into sweepstakes, participants consent to that his / her full name and city of residence can be published at https://www.georgjensen.com/en-us.The participants can obtain information on Georg Jensen Ltd's processing of their personal data or withdraw their consent by sending an e-mail to internetUS@georgjensen.com